Everything You Need to Know About EPM Integration Agent
Introduction
In the world of Oracle's Enterprise Performance Management (EPM) Cloud, integrations have been a longstanding challenge for organizations. Oracle, a leader in the EPM space, recognized this pain point and developed the EPM Integration Agent, a lightweight tool that simplifies data extraction and integration from both on-premises and cloud data sources. This article aims to provide a comprehensive understanding of the EPM Integration Agent, its functionalities, and the benefits it brings to organizations.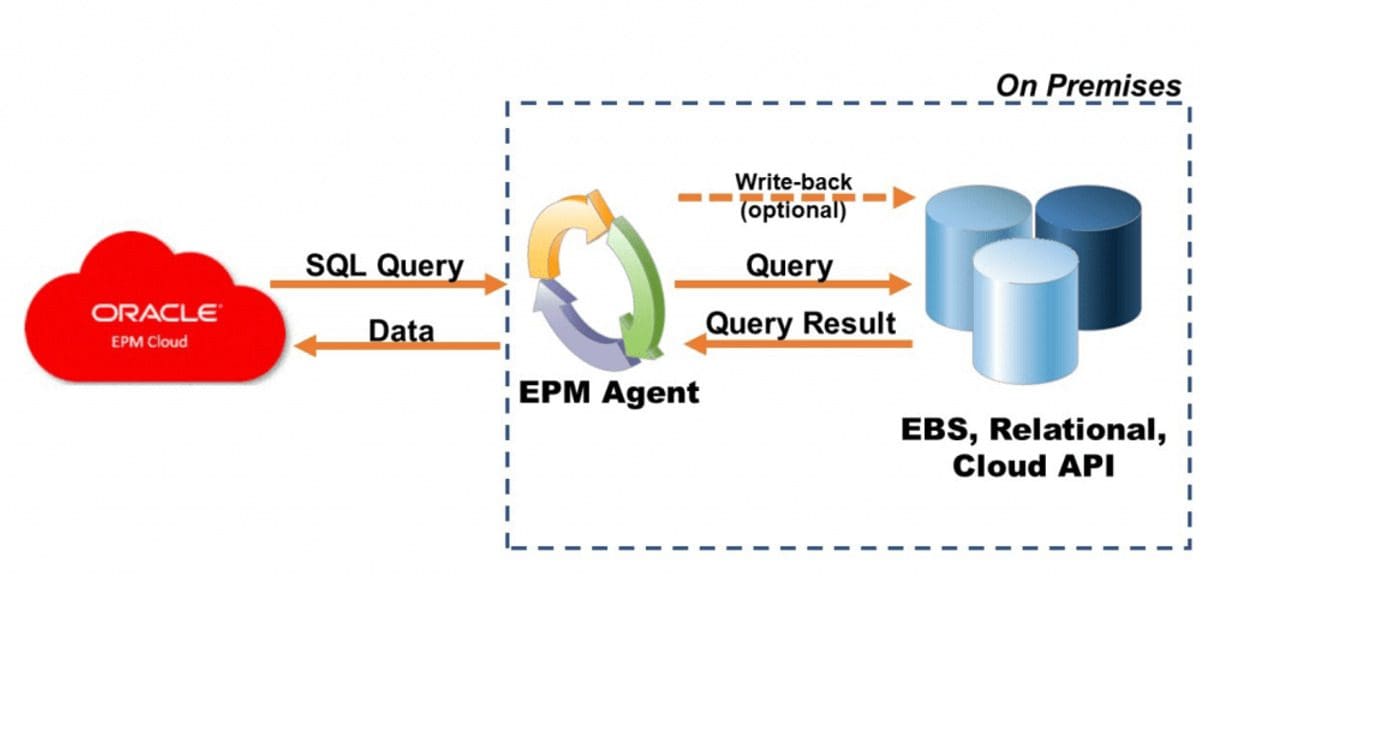 What is the EPM Integration Agent?
The EPM Integration Agent serves as a central server tool that enables the extraction of data from various data sources, including both on-premises databases and cloud-based systems. The extracted data is then loaded into Data Integration, where it can be transformed into data or metadata for integration with EPM applications.
Simplifying EPM Integrations
Integrating EPM cloud applications with other systems has historically been a complex task. However, Oracle has made significant advancements in this area by continuously improving Data Management and introducing the Integration Agent. This tool has revolutionized the integration process by streamlining data exchange and mapping between EPM cloud and other data sources.
How Does the Integration Agent Work?
At a high level, the integration process using the EPM Integration Agent begins with the creation of a target in Data Integration. If the integration involves an on-premises database, an extraction query needs to be added in Data Exchange, which is then incorporated into the application. Once these initial steps are completed, import formats, locations, data load rules, and mappings are created within Data Integration.
In essence, the Integration Agent acts as the intermediary between EPM cloud and other data sources, whether they are on-premises or in the cloud. It facilitates the processing and mapping of data through Data Integration, ultimately loading it into the target EPM application, such as Planning or FCCS.
Extensible and Customizable
One of the standout features of the EPM Integration Agent is its extensibility. It provides the flexibility to create custom scripts using Jython, a Python implementation over Java. These scripts offer granular control over integration processes, allowing users to execute actions such as running stored procedures before or after querying specific views. Additionally, the agent supports accessing external data, such as foreign exchange rates, through REST APIs.
The ability to leverage custom scripts opens up a world of possibilities for organizations seeking innovative integration solutions. It empowers users to tailor the integration process to their specific requirements, enabling seamless connectivity between EPM cloud and a wide range of data sources.
Key Benefits of the Integration Agent
The EPM Integration Agent offers several benefits that make it a valuable tool for organizations:
Real-time Data: The agent ensures that users always have access to the latest data available at the time of execution. This eliminates the need for manual data updates or relying on outdated information.
Direct Source Connection: By bypassing traditional ETL processes and file transfers, the integration agent establishes a direct connection with the source system. This streamlines the integration workflow and reduces the risk of data discrepancies.
Customizability: With the ability to create custom scripts, organizations can tailor the integration agent to suit their specific needs. This empowers them to automate complex tasks, execute additional actions, or integrate with third-party services seamlessly.
PARC Consulting: Your EPM Integration Partner
At PARC Consulting, we have extensive experience with the EPM Integration Agent, having successfully delivered numerous projects utilizing its capabilities. Our team of experts has been early adopters of the agent and continues to innovate as new challenges arise in client projects. Whether you require simple or complex integrations, we are here to help you leverage the power of the EPM Integration Agent to streamline your EPM implementation.
Contact us today to learn more about how the EPM Integration Agent can simplify your integration needs and enhance your EPM implementation.
Conclusion
In conclusion, the EPM Integration Agent provided by Oracle is a powerful tool that addresses the long-standing challenge of integrations in the EPM space. By simplifying the data extraction and integration process, organizations can leverage real-time data, establish direct connections with data sources, and customize the integration workflow to meet their unique requirements. With the help of PARC Consulting, organizations can unlock the full potential of the EPM Integration Agent and achieve seamless integration across their EPM applications.