Considering FreeForm? These Are the Things You Need to Consider
The FreeForm application type in Oracle's EPM Cloud platform has been around for a few years now, and now contains most of the features in EPM Cloud Planning with the remainder on the development horizon. But is it a good choice for you? In this post, we will look at the benefits – and constraints – of FreeForm so that you can make this important decision.
What are the Benefits of FreeForm?
FreeForm is an EPM Cloud application type that allows you to create up to 12 Hybrid BSO and/or ASO cubes with no dimensional requirements whatsoever while providing nearly all the same features found in its Planning and Module-based cousins (with Approvals, Tasks, Prediction, and Insights, and Smart View's Formula Fill scheduled for release next year). Also scheduled for next year is the use of Essbase 21c as the back end.
In a FreeForm application, you can have up to 29 total dimensions (across all cubes). These dimensions can include Account and Period dimensions, allowing you to leverage features like Time Balance and Expense Reporting, as well as multi-year Period dimensions. FreeForm dimensions are also entirely custom, with no default members or hierarchies.
A FreeForm application can be created by importing an Essbase OTL file (version 11.1.2.3+ only), by creating dimensions manually, or by importing dimensions as you would in any Planning application. Note that only the first FreeForm cube can be created by importing an OTL file; for other cubes, you must use the other methods.
In a recent Cloud Customer Connect session, Oracle included the below slide as part of its presentation, which provides a comprehensive feature list of the FreeForm application type: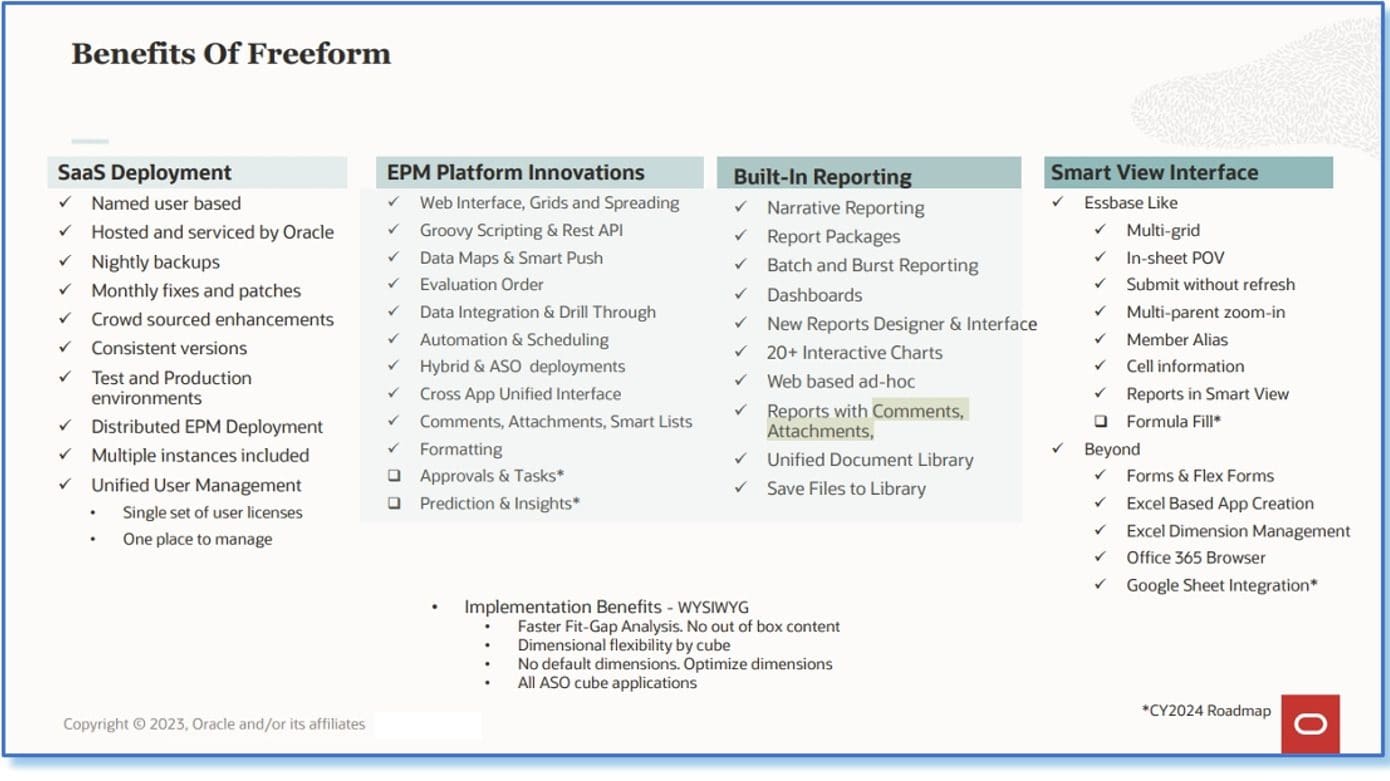 What are the Use Cases for FreeForm?
FreeForm applications are a great way to combine data from a variety of sources, especially when those sources do not conform to the six required dimensions of a traditional Planning application. These could include Essbase or HFM archival data, corporate reporting data, and even external or Excel-modeled data.
FreeForm also allows the creation of cubes that are entirely separate from one another, even those with no dimensional commonality (as long as the total number of dimensions doesn't exceed 29). Dimensions can be shared among the FreeForm cubes, such as sharing a common Period or Entity dimension, or they can be entirely separate.
Things to Keep in Mind
Be aware that despite the cubes being entirely separate, they share a common dimension and member repository, so your dimension and member names must be unique across the entire application.
FreeForm isn't meant to be a substitute for other BI solutions for reporting upon transactional databases.
User access management – especially with administrator-type users – can be difficult when multiple cubes are entirely disparate.
FreeForm may not be a cost-effective solution when used as a substitute for Essbase and the many Planning-type features won't be utilized.
In summary, FreeForm is a tremendous innovation when it comes to leveraging the power of EPM Cloud Planning's feature set without having to conform to Planning dimensionality. Further, it allows the integration of operational or other non-planning-related datasets into a single reporting repository.
If you have questions about using FreeForm and whether it might be a good fit for your organization, contact Parc Consulting for more information.